From Optogenetics LED light source to cannula and everything in between, Prizmatix can provide all the components necessary for your Optogenetics research – including advice and guidance.
In-vivo optogenetics LED modules starting from single wavelength plug-and-go Optogenetics-LED for neuron activation to multi-wavelength systems for activation and silencing.
Prizmatix supplies unique polymer optical fibers for Optogenetics light delivery from LED source to cannulae. These optical fibers have high NA and are extremely flexible and non-brittle. For special cases we can supply armored fibers.
Optogenetics Rotary-Joint has an extremely low friction that enables truly free moving animal experiments.
Prizmatix supplies variety of high NA glass implantable cannulae at custom lengths and core diameter.
Prizmatix Pulser / PulserPlus are programmable TTL pulse generators designed especially for Optogenetics experiments in contrast to general purpose devices aimed at electronics technicians.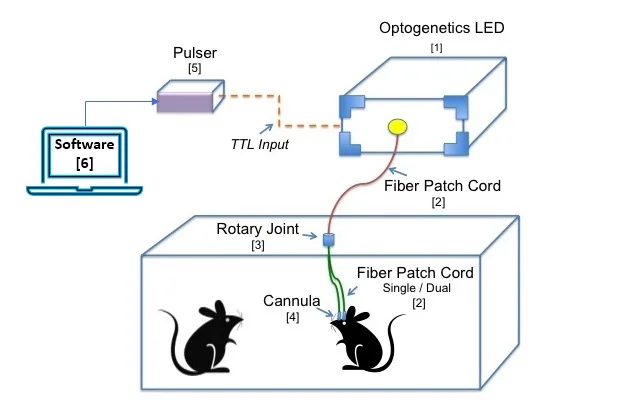 ---
(see [1] on drawing)

The high-power fiber-coupled Prizmatix Optogenetics-LED light source available at Violet, Blue, Green, Yellow, Red and Deep Red wavelengths for activation or silencing of various Optogenetics opsins. The LED can be triggered by a standard TTL signal and the power can be precisely controlled by 10 turn potentiometer or by 0-5V analog signal. Single or Dual independent channels as well as stimulation and silencing by same fiber devices are available.

Optogenetics-LED

Optogenetics-LED-Dual

Optogenetics-LED-STSI
---
(see [2] on drawing).
Prizmatix provides diverse fiber optics solutions for optogenetics in-vivo. Made of silica or polymer, these high NA fibers can be constructed to fit any research set-up with various combinations of connectors, ferrules, core diameters and lengths.
Typical Optogenetics in-vivo fiber optics setup will include fiber patch cord from Optogenetics-LED to Rotary Joint (P/N: Optogenetics-Fiber-1000), fiber to connect the Rotary-Joint to cannula (P/N: Optogenetics-Fiber-500) or dual fiber for bilateral activation (P/N: Optogenetics-Fiber-Dual-500). The later can be optimized for mice (1.25mm ferrule) or to rat (2.5mm ferrule). In some setups this fiber can be produced as Armored fiber with very light and flexible metal sheath.
More information on Prizmatix Optogenetics Fibers for In-Vivo and In Vitro Optogenetics.

Click pictures to enlarge

Optogenetics Fiber

Optogenetics Dual Fiber

Armored Optogenetics Fiber

Armored Optogenetics Fiber Dual
---
(see [3]) on drawing
Watch as Prizmatix's Rotary Joint spins freely for over 30 seconds, benefiting from low torque and friction, with minimal impact on behavior. Prizmatix's Rotary Joint is specially designed for Optogenetics experiments with High NA detachable fibers equipped with FC connectors.

Prizmatix Rotary Joint can be used with single or multiple output fibers simultaneously, enabling concurrent delivery of light to separate areas of the brain without loss of power or brightness.
More information on Prizmatix fiber optic Optogenetics Rotary Joint.
---
(see [4] on drawing)
Prizmatix Implantable Fiberoptic Cannulae / Ferrules allow direct light stimulation of certain deep brain regions in living animals. Each Cannula consists of a zirconia ferrule accommodating a high NA Silica/POF fiber, protruding from the zirconia ferrule at the specified length.
More information on Prizmatix Optogenetics Fiber-Optic Implantable Cannulae....
---
| | |
| --- | --- |
| Prizmatix Sleeves are small ceramic or metal parts that enable proper alignment and connection between the Optogenetics-fiber ferrule and the implant (cannula) ferrule. The Sleeves are available for 1.25 mm diameter (Mice) and 2.5 mm diameter (Rat) cannulae. | Click picture to enlarge |
---
Click picture to enlarge

The Prizmatix DIY Optogenetics implant kit allows you to make your own implantable cannula on demand, whenever you need them. The kit contains everything you need to make cannulae for your experiments.
More information on Prizmatix Optogenetics DIY Cannula Kit.
(see [5] on drawing)




See the Pulser in action:

The Pulser device is TTL-Pulse-Generator for Optogenetics experiments.

Pulser provides an easy and inexpensive way to create trains of TTL pulses for Optogenetics activation directly from your computer via USB. It can work with Prizmatix Optogenetics-LEDs, Lasers or Shutters.

TTL-Out connector used for TTL pulses with sophisticated sequences (single or bi-phasic pulses as single pulse train or multiple groups of trains are possible).

Trigger-In connector is provided for synchronization of Optogenetics with other experiment events ( e.g. events created by video tracking software). Five different Trigger Operation Modes are provided.

Trigger-Out connector enables further activation of additional devices after pulse train was completed ( PulserPlus only)

The Pulser software enables the simple visual design of various TTL pulse trains. The software is available as a stand-alone Windows application, as well as web-based application running on Google's Chrome browser, enabling the use of the Pulser on Mac and Windows platforms.

Pulser includes all necessary hardware, software and cables.
More information on Prizmatix Pulser / PulserPlus Optogenetics Pulse Generator.

---


(see [6] on drawing)



The software enables easy visual design of the various TTL pulse Trains and conditions. The pictures below show the Graphical User Interface (GUI). The upper right side of the GUI shows an example waveform with the legend of user definable parameters. The bottom pane shows the actual TTL waveform programmed with the user settings on the left side. The software available as stand-alone Windows application as well as Web application running on Google Chrome browser enabling using of Pulser software on Mac or Windows computers without software installation. Click here to run Pulser web application

!New: Now you can use Pulser also from Google Chrome browser on your Mac or Windows PC.